Ranger, the most reliable 10 meter radios in the world.
RCI-2950DX & RCI-2970N2 10/12 Meter Amateur Mobile Transceivers
AM - FM - CW - SSB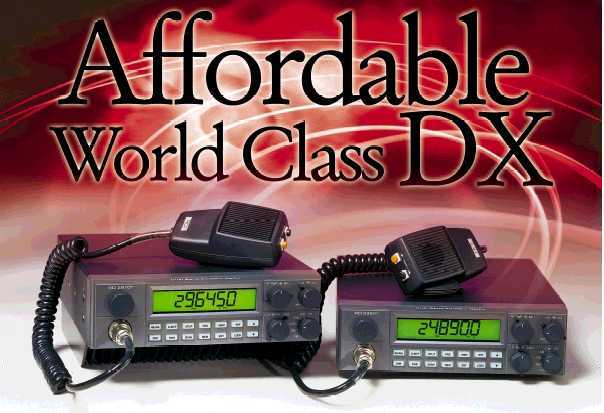 | | |
| --- | --- |
| | RCI-2950DX |
| | |
| --- | --- |
| Low and High Power Models | Large Frequency Display with Dimmer |
| Variable Output Power Control | Active Frequency Scanner |
| Receiver Clarifier (ą0.5kHz) | Ten Programmable Frequencies |
| Noise Blanker/ANL Circuitry | Frequency Selector Lockout |
| Programmable Repeater Offset | Public Address Feature |
Ranger Communications has set the performance and reliability standard for entry level amateur mobile transceivers with the ever popular RCI-2950 / RCI-2970 series of cost effective, multi mode, high performance 10 meter transceivers.

Now you can upgrade your mobile capabilities with your choice of power levels with units rich in features and reasonable in cost. The RCI-2950/RCI-2970 has full coverage of the 10 meter amateur band and give you a choice of 25 Watts PEP output (RCI-2950) or 200 Watts PEP output (RCI-2970) with which to take advantage of the recent band openings on 10 Meters.

Thanks to the microprocessor design, these transceivers are capable of operating features< commonly found on more expensive units. Features such as programmable repeater offset and CTCSS tone option — great for increasing repeater activity on 10 meters — and receiver scanning for quick search of active frequencies. The units offer three methods of frequency selection, non-volatile memory to store and scan up to ten favorite frequencies, and front panel frequency selector lockout.

In addition, these models offer an impressive array of design and performance improvements:

Self calibrating SWR circuitry: displays relative SWR on the LCD display for continuous monitoring of antenna matching.

Variable power output control: when desirable to reduce heat and power consumption.


Programmable repeater split: for the increase in 10 Meter repeater activity.


Clarifier control: for easy tuning of SSB signals.


Public Address output: for emergency or auxiliary public safety operation.



RCI-2950 & RCI-2970 Specifications
General

RCI-2950

RCI-2970N2

Frequency Range

28.000 - 29.6999 MHz

<—

Tuning Steps

1 MHz, 100 KHz, 10 KHz, 1 KHz, 100 Hz

<—

Emission

USB, LSB, CW, AM, FM

<—

Frequency Tolerance

0.005%

<—

Frequency Control

Microprocessor / Phase-Locked-Loop Synthesizer

<—

Frequency Stability

0.001%

<—

Operating Temperature Range

-10 ēC to + 50 ēC

<—

Meter Function

RF Output, RX Signal Strength, Modulation, SWR (LCD Display Indicates Relative Values)

<—

Antenna Impedance

50 W

<—

Input Voltage

13.8 Vdc

<—

Microphone

400 W Dynamic PTT - 6 Pin

<—

Size (W x D x H)

7 " x 10 " x 2-3/8"

7 " x 9 " x 3-7/8"

Weight

4 lb 3 oz

7 lb 6 oz

Shipping Weight

6 lb.

11 lb.

Transmitter

RF Power Output

10 Watts RMS: CW / AM / FM:
25 Watts: SSB (PEP)

75 Watts RMS: CW / AM / FM
200 Watts (PEP): SSB

Modes

USB, LSB, CW, AM, FM, PA

<—

Carrier Suppression

- 50 dB

<—

Spurious Emission

- 50 dB

<—

Antenna Connector

UHF Type, 50 W

<—

Receiver

Sensitivity

AM / CW: 0.7 ĩV for 10 db SINAD
FM: 0.5 ĩV for 12 db SINAD
SSB: 0.2 ĩV for 10 db SINAD

<—

Selectivity

- 55db

<—

Image Rejection Ratio

- 65 db

<—

Audio Output Power

2.5 Watts @ 10% THD

<—